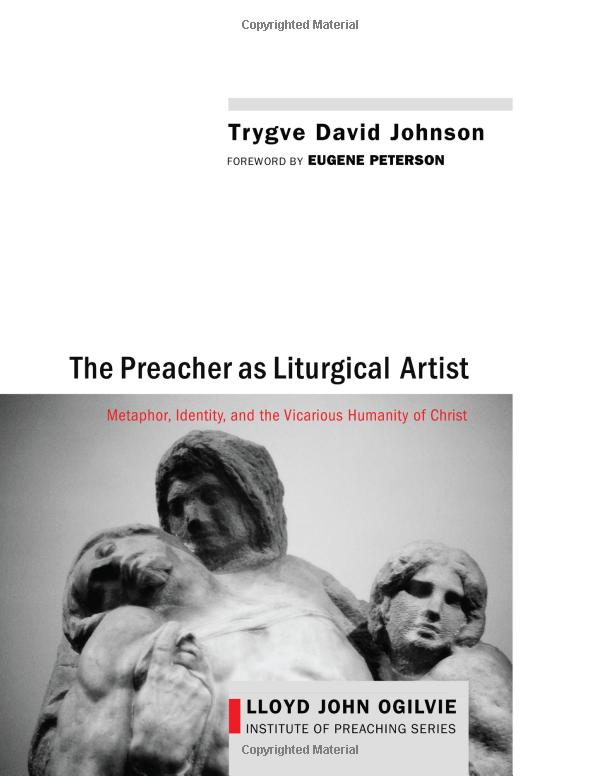 The Preacher as Liturgical Artist: Metaphor, Identity, and the Vicarious Humanity of Christ
Trygve Johnson invites us to consider a new metaphor of identity of The Preacher as Liturgical Artist. This identity draws on a theology of communion and the doctrine of the vicarious humanity of Christ to relocate the preacher's identity in the creative and ongoing ministry of Jesus Christ. Johnson argues the metaphorical association of the preacher and artist understood within the artistic ministry of Jesus Christ frees the full range of human capacities, including the imagination to bear upon the arts of Christian proclamation. The Preacher as Liturgical Artist connects preachers to the person and work of Jesus Christ, whose own double ministry took the raw materials of the human condition and offered them back to the Father in a redemptive and imaginative fashion through the Holy Spirit. It is in the large creative ministry of Jesus Christ that preachers find their creativity freed to proclaim the gospel bodily within the context of the liturgical work of God's people.
What is Jesus Doing?: God's Activity in the Life and Work of the Church
Jesus is present here and now, Christians have always affirmed. But how are we to understand his present activity in a challenging, post-Christian context? In what ways is he at work in our congregational worship, pastoral care, preaching―and even our board meetings? At a time when many feel uncertain about the future of the church, What Is Jesus Doing? brings together leading thinkers in pastoral theology, homiletics, liturgical theology, and missiology in a compelling resource for pastors and theologians. Emphasizing the reality of Jesus both as the resurrected, ascended Christ and as present and active today, the contributors consider how to recognize the divine presence and join in what God is already doing in all areas of church ministry. Contributors include:
David Fergusson
Dwight J. Zscheile
Scott J. Hagley
Craig Barnes
Roger Owens
Anthony B. Robinson
Will Willimon
Andrew Root
John D. Witvliet
Nicholas Wolterstorff
Angela Dienhart Hancock
Trygve D. Johnson
With deep theological reflection, personal stories, and practical suggestions, this interdisciplinary conversation invites leaders to remember that the church is first of all God's project, not ours―and that this truth should fill us with hope
Pastoral Work: Engagements with the Vision of Eugene Peterson
Eugene Peterson may be the most influential theological writer in the church today. Yet because most of his career has not been in academia there is not much critical engagement with his work. Here, some of the finest scholar-pastors we have describe the way Peterson has inspired and infuriated pastors on the way to (hopefully) more faithful pastorates.
"For those who knew Eugene Peterson only through his idiomatically rendered Bible–The Message– his memoir, The Pastor, was a revelation. But only a partial one. For the full 360-degree refraction, read Pastoral Work. This book collects the very lively thoughts of sixteen noted scholar-pastors addressing 'Pastor Pete's' influence on them and their calling."
–David Van Biema, former chief religion writer, Time magazine
"These engagements with Eugene Peterson will be valuable to anyone who cares about pastoral ministry. Like Peterson's own work, they are informed by long obedience and patient reflection, and they are refreshingly free of cant, hype, and prattle."
–John Wilson, editor, Books & Culture
"Here is a book that will deepen, challenge, inform, enrich, and renew ministry in just the same way and to just the same degree as the work of its subject, Eugene Peterson. Peterson's legacy will not finally be in the written word but in the reflective practice of his countless disciples, shaping communities in ways inspired by his words and example. To read this book is to feel encouraged, hopeful, and moved to prayer and service; and relieved to rediscover that one's ministry is not a lone quest but a shared joy."
–Sam Wells, Vicar, St. Martin-in-the-Fields, London
Jason Byassee is senior pastor at Boone United Methodist Church in North Carolina and a Fellow in Theology and Leadership at Duke Divinity School. L. Roger Owens is associate professor of leadership and ministry at Pittsburgh Theological Seminary.